Coteau Books in the Schools: Batoche
by Kim Morrissey ISBN 0-919926-91
---
John Robert Colombo
"The Last Words of Louis Riel"
Biography and Books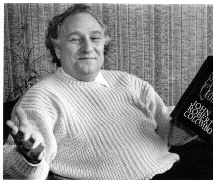 John Robert Colombo is the author/editor of over 100 books largely devoted to the lore and literature of Canada. He is also a cultural commentator and communications consultant who has contributed to many of Canada's major newspapers, magazines, and journals. He is the General Editor of "The Canadian Global Almanac," an 800-page annual of "Facts about Canada and the World" published by Macmillan Canada, and the Canadian Book of Quotations.
The poet Andrei Voznesensky referred to John Robert Colombo's poetry as "significant and profound." The critic Richard Kostelanetz identified him as "a prolific writer and editor whose achievements are so numerous they are foolishly taken for granted."
In June 1998, York University in Toronto awarded John Robert Colombo its honorary Doctor of Literature degree: D.Litt. (h.c.).
---
(April 17, 1999) There are now 136 Colombo books, counting all five of his quotation books (beginning with Colombo's Canadian Quotations, the most famous, in 1974), his translations, the books he's edited, his collections of ghost stories ... and his own original poetry and the "found poetry," often brilliant, that he developed in the 1960s.....
In 1959, while still a University of Toronto student, he organized literary evenings at the Bohemian Embassy coffee house, where the late Gwendolyn MacEwen was one of his stars. In 1961, he printed and issued through his Hawkshead Press a slim volume of poems, Double Persephone, the first book by the poet who then called herself M. E. Atwood. He worked as an editor for several publishing houses and, in 1965, freelancing for McClelland & Stewart, edited George Grant's Lament for a Nation, which soon became the bible of Canadian cultural nationalism ...."
With Colombo's Canadian Quotations, he put thousands of researchers in his debt, present company included .... -- Robert Fulford, Globe and Mail, April 17, 1999.
Colombo, John Robert, born in Canada on 23 March 1936
Colombo is an editor and anthologist living in Toronto .... He produced the first-ever anthology of Canadian science fiction, Other Canadas (1979), a hardcover reprint collection containing 21 fiction pieces and 28 poems ... the definitive historical retrospective of Canadian SF.... Colombo's other significant genre books include: Mostly Monsters (1977), a collection of "found poetry" -- prose text that Colombo has rearranged as verse, gathered mostly from SF sources .... Colombo has also published two significant bibliographies: Blackwood's Books (1981), the first listing of works by British fantasist Algernon Blackwood; and, in collaboration with Alexandre L. Amprimoz, John Bell, and Michael Richardson, CDN SF&F (1979), the first bibliography of Canadian contributions to the SF field. -- Robert Sawyer
http://www.sfwriter.com/egcolomb.htm
---
Selected Bibliography:
Selected Books (and Books in Print, available from Amazon/ Barnes and Noble)
Abracadabra
John Robert Colombo, 1967

2000 The Canadian Global Almanac
John Robert Colombo (Editor) / Paperback / Published 1999

Colombo's All-Time Great Canadian Quotations
John Robert Colombo / Paperback / Date Published: February 1995

Colombo's Canadian References
John Robert Colombo / Hardcover / Published 1977

Colombo's 101 Canadian places
John Robert Colombo

Colombo's Book of Canada
John Robert Colombo

Colombo's Book of Marvels
John Robert Colombo

Colombo's Concise Canadian quotations
John Robert Colombo

Colombo's Names and nicknames
John Robert Colombo

The Dictionary of Canadian Quotations
John Robert Colombo (Editor) / Hardcover / Date Published: February 1995

Ghost Stories of Ontario
John Robert Colombo / Paperback / Published 1995

The Great San Francisco earthquake and fire
John Robert Colombo

The Great Wall of China
John Robert Colombo / Paperback / Published 1996

Haunted Toronto (The Ghost Stories Series)
John Robert Colombo / Paperback / Published 1996

Master of All Poets
James Gay, et al / Paperback / Published 1996

Mysteries of Ontario
John Robert Colombo / Paperback / Published 1999

How do I love thee; sixty poets of Canada (and Quebec) select and introduce their favourite poems from their own work
John Robert Colombo

Luna Park : One Thousand Poems
John Robert Colombo

Mostly monsters
John Robert Colombo

New Canadian Quotations
John Robert Colombo / Hardcover / Published 1987

New direction in Canadian poetry
John Robert Colombo

Poems of the Inuit.
Ed by John Robert Colombo

Popcorn in Paradise : The Wit and Wisdom of Hollywood
John Robert Colombo

Private parts
John Robert Colombo

Quasibook edition of the writer's map of Canada
John Robert Colombo

Rhymes and reasons; nine Canadian poets discuss their work
John Robert Colombo

Selected poems
John Robert Colombo

Shapely Places: Instances of Imaginative Geography
John Robert Colombo / Paperback / Published 1996

Songs of the Great Land
John Robert Colombo / Paperback / Published 1996

Songs of the Indians
John Robert Colombo (Editor) / Hardcover / Published 1984

The Stephen Leacock Quote Book
Stephen Leacock, John Robert Colombo / Paperback / Published 1996

Such Times: Selected Poems
Ewa Lipska,Krystyna Sadowska (Illustrator), John Roberto Colombo (Translator), Waclaw Iwaniuk (Translator) / Paperback /

Translations from the English : found poems
John Robert Colombo

Variable cloudiness : new poems
John Robert Colombo

Windigo : An Anthology of Fact and Fantastic Fiction
John Robert Colombo (Editor)

Worlds in Small
John Robert Colombo